The only limit is your imagination.
Your Design is Unique
We aim to create one off custom pieces so your vehicle is truly unique.
There is no limit to depth, colour or detail. We can work right up to photograph quality and if it can be seen on the screen we can get it into the paint. From mind blowing full themes to single subtle pieces. Tell us your thoughts and we will take it to the next level.
The Main Advantage
The main advantage with our process over traditional methods such as airbrushing is that all of the designs are computer generated; therefore, what you see is exactly what you get. We can liaise with you and show you exactly how the finished result will look on the screen even before we go to print. We can shift graphics, change colours and have full control on how your masterpiece will look.
We can offer this dervice world wide, you will be fully aware of how the process progresses. We can liaise with you via email and you will see the exact graphics come to life. We can even superimpose them on your vehicle so you can visualise the finished result.- There are no hidden surprises at the end.  We are on hand to work from your brief and create graphics and themes that are unrivalled.
On Approval
Once the design has been approved we print the image in high resolution onto the digital media. We use very high-grade UV resistant inks. This media is then softened and applied into the paint, there are no lines and the finished result needs to be seen to be believed. We can work with metallic or solid base coats to make the images 'pop up' in the sun – see The Pariah and Dead Kelly bikes for examples.
Future Proofing
In the unfortunate event your machine gets damaged in your travels… we cover this by keeping a back up copy of graphics for a number of years. Your vehicle can be put back to original condition without going through the whole design process again.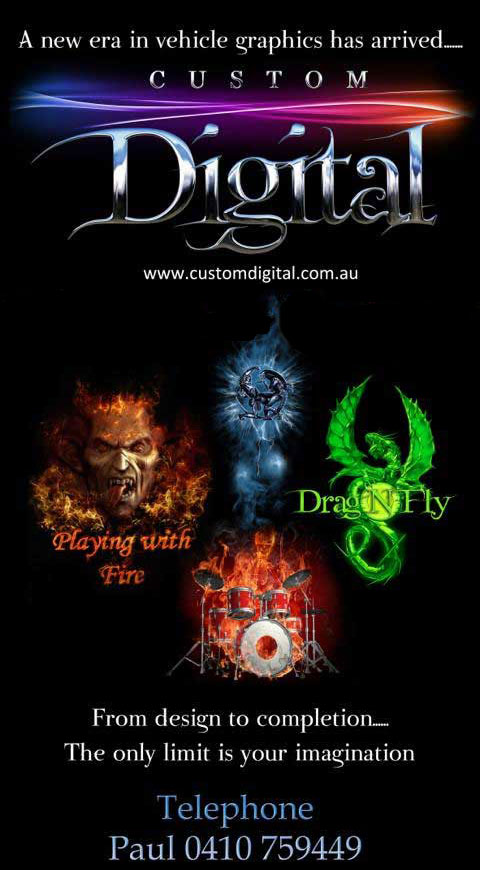 It is our policy to liaise with the customer every step of the way
so the results are beyond expectations…